Skip to Content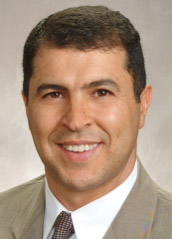 Welcome to Our Practice
Moutaa BenMaamer, MD, FACS, is a highly experienced general and vascular surgeon who is board-certified in the United States and the European Union.
At his practice, the General Surgery Institute, Vein Institute, located in Fort Myers, Florida, Dr. BenMaamer performs the full scope of general surgeries, with additional specializations in mesh-free hernia repair, colorectal surgery, thyroid, and parathyroid surgery.
As a vascular surgeon, Dr. BenMaamer has extensive experience in numerous advanced treatments to treat varicose veins and leg pain, ulcer, and swelling caused by vascular disease. He offers the American and European ways of treating conditions, presenting patients with both options so they can make the best decision.
After receiving his medical degree from the Medicine School of Tunis, in Tunis, Tunisia, Dr. BenMaamer completed a residency in general and vascular surgery at the University of Medicine of Nice in Nice, France.
After relocating to the United States, he completed a residency in general surgery in Youngstown, Ohio, and a fellowship in vascular surgery at the University of Texas Health Science Center at Houston.
Dr. BenMaamer is fluent in English, French, and Arabic and welcomes new patients and returning patients who may still need exceptional general surgery or vascular care.
Schedule an Appointment Today